Ecotourism in Cumberland County: Things to Do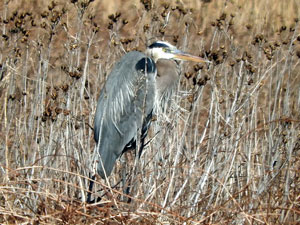 Birding:
Shorebird migration in May at the Delaware Bay towns of Moore's Beach, East Point, and Thompson's Beach.
Neotropical songbird migration, both spring and fall, around East Point.
Autumn Monarch butterfly migration in and around East Point and the Bay.
Autumn raptor migration around East Point/Delaware Bay.
Wintering waterfowl and raptors: especially large populations of bald eagles on the Maurice River.
Broad range of habitats throughout the area year round.
Eagle Festival in February and Purple Martin Festival in August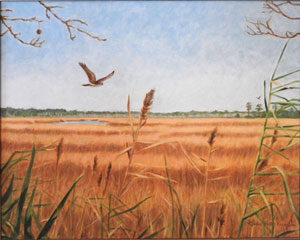 Wildlife Management Areas:
Bevan Wildlife Management Area, near Laurel Lake.
Heislerville and Corson Fish and Wildlife Management Areas, near Heislerville.
Peaslee Wildlife Management Area, containing much of the headwaters of the Manumuskin River and Muskee Creek. Typical Pinelands flora and fauna. Includes Cumberland Pond on Route 49.
Menantico Wildlife Management Area, at the head of the Menantico River.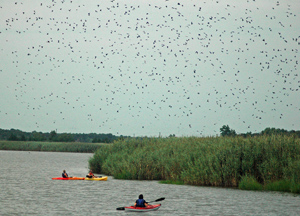 Wild and Scenic Rivers:

Each of the four designated rivers: the Maurice, the Menantico, the Manumuskin, and the Muskee; has its own unique characteristics. With allowances for tides, canoes and kayaks are an excellent way to explore the tributaries, while motorboats are more popular on the main river. Of particular interest, the Manumuskin River basin harbors thirty-two rare plants, making it one of the most botanically significant areas in New Jersey. The sensitive joint vetch, or aeschynomene virginica, is found here in the largest of only five stands known worldwide, and is an index of the extreme purity of the water due to lack of development within the area. The reptile and mammal diversity is also unusual, and 15 of New Jersey's 25 threatened and endangered bird species breed here. Bring binoculars
Historic Villages and Structures:

Port Elizabeth: ca. 1780.
Mauricetown: ca. 1730; home of oyster captains.
Dorchester: mid-1600's (by Swedish); has been a shipbuilding town for over 200 years.
Leesburg: early 1800's.
Heislerville: early 1800's.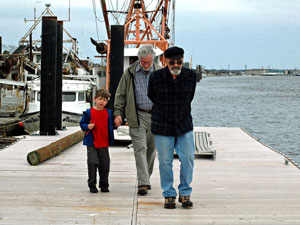 Other Attractions:

WheatonArts: located in Millville, WheatonArts celebrates the spirit of American craft with an emphasis on glass. It is home to the Museum of American Glass that has the finest collection of American glass in the country. Other attractions include: the re-created 1888 T.C. Wheaton Glass Factory; Crafts and Trades Row; the Down Jersey Folklife Center; The Creative Glass Center of America; Stained Glass Studio; Tinsmith Shop; museum stores and a self-guided nature trail through the grounds. Daily demonstrations in glassmaking, pottery, woodworking, glass lampworking and stained glass. "Get up close and personal" with highly skilled artisans. Call for further information: 1-800-998-4552 or 856-825-6800.
The Schooner A.J. Meerwald and the Bayshore Center at Bivalve: located in Bivalve in Commercial Township, it is a restored oyster schooner, built in 1928 at nearby Dorchester in Maurice River Township. The A.J. Meerwald is now a floating classroom - an educational vessel which promotes cultural and environmental awareness. A small maritime museum, a café, and changing art exhibits (the second Friday of each month) in the restored shipping sheds make this a fascinating destination for history and maritime buffs. (856 785 2060).
East Point Lighthouse: built in 1849. Last remaining landbased lighthouse on the Cumberland County Delaware Bay shore. A frequent subject for artists, the lighthouse and gift shop are open to the public the first and third weekends of each month with additional hours for special events. (856-785-0349)